Vibram FiveFinger® Toe Shoes Now Available at the MACkite Surf Shop

In 2006 Vibram lead the revolution in Minimalist and Barefoot training, and in 2012 MACkite Surf Shop was chosen by Vibram to be Grand haven's only retail outlet for FiveFinger® Shoes. "Why?" might you ask. Well, perhaps MACkite has a similar perspective as Vibram when it come to your outdoor lifestyle: do it well and do it right. When first trying on a pair of FiveFingers® at MACkite, you will notice your questions will be answered. We will help you choose the right shoe for your training needs.

Stop in to MACkite Surf Shop to pick up your very own pair of FiveFinger® toe shoes today.
Here are a few things to think about when transitioning into barefoot running/training:
Listen to your feet!
Switching to Vibram FiveFingers® from traditional shoes is a transition that may take time. For some, it is a matter of weeks, for others months, and for a few it could be a year or more. Much is dependent on your foot type, the activities you're using FiveFingers for, and the amount of pronation you experience. The progression will ultimately be worth the wait, and your foot and body will be stronger and better off for it.
Stop if your arches or the top of your foot is hurting, or if anything else hurts!
Remember to transition slowly to FiveFingers in order to build strength in your lower legs and feet and to minimize discomfort. An adjustment period is normal, and any discomfort should decrease after a week or two of use.
Stop and let your body heal if you experience pain.
Sore, tired muscles are normal; bone, joint, or soft-tissue pain is a signal of injury.
In the beginning, remember to carry your traditional footwear in your hands as a backup.
If you need to stop in the middle of a workout, you can put on your cushioned running shoes and continue with your activity.
Training starts by Training your feet.
2-week Foot Strength Training Program:
To safely begin the transition to wearing Vibram FiveFingers® for running and fitness, Vibram highly recommend the following foot strengthening exercises.

Practice the exercises below in 3 sets of 20 reps, 3-5X/week for 2 weeks. Your feet may feel tired afterwards, but you should not be in pain. Ultimately, this series of exercises will be part of your warm-up routine.

1. Heel raise
2. Toe grip
3. Dorsi/plantar flexion
4. Toe spread/tap
5. Exaggerated eversion/inversion
6. Grabbing a towel on the floor with toes and pass to other foot
7. Walking in FiveFingers: never underestimate the power of just being barefoot or in FiveFingers. One- to two-hour intervals of general day-to-day activity in your FiveFingers is an excellent way to slowly build the small muscles in the feet and ankles.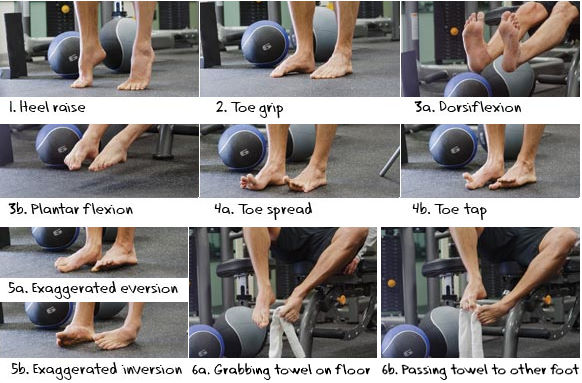 How To Size your FiveFinger® Shoes: